4 cleaning hacks that will make you a house cleaning genius (plus step-by-step instructions on how to clean every room in your house, fast).
Has disaster struck your house?
I'm not talking a flooded basement or a tree that fell through the roof – I'm talking disaster in the form of littles running around leaving a trail of toys, crumbs, and dirt wherever they go and cleaning duties that have been neglected for far too long.
(THIS POST MAY CONTAIN AFFILIATE LINKS FOR YOUR CONVENIENCE. YOU CAN READ OUR DISCLOSURE POLICY HERE.)
Piles of laundry, toys, and dishes that litter your house. Individual dust bunnies that have turned into whole families of dust bunnies…
…floors that haven't seen the light of day in weeks.
Laundry on the floor that requires the "sniff test" to determine whether it's still wearable or not.
We're not talking about a house that just needs a quick clean, here. We're talking about a house that is so far gone you don't know where to start cleaning it. The very thought of trying to tackle the mess sends panic through your body and the feeling of overwhelm races through you… no, this isn't just your typical "dirty house".
Do you know what it feels like to be absolutely overwhelmed with the mess in your house?
(If you don't, and all you're looking for is something to help you clean up a moderately messy house, this along with a cleaning cloth is all you really need.)
But – if the mess in your house is MORE than just sticky floors and fingerprints on the appliances, you're going to need something more than just cleaner and a cleaning rag. If you're ready, use this guide to learn how to clean every room in your house FAST. (Even when it seems impossible.)
In case you're wondering:
✅ I use THESE 
every time I clean (they make the job quicker), but they are a bit pricey, so
these
are an affordable alternative that many people use.
Want to skip the entire post and just get the room-by-room home deep cleaning checklist? Grab it here.
So, you let your house sit for a few weeks too long and now the mess overwhelms you. If only you had taken that 20 minutes last week to clean your house, you wouldn't be faced with such a daunting task today.
But you didn't.
And now you're here. (I know how this feels, and it is NOT fun.)
You're left staring at a house that would honestly look better if it had blown away. But instead, you're stuck with a house that is an absolute MESS and you don't have any idea where – or how – to start cleaning it.
If you're an exhausted momma who just doesn't have time to face the mess right now but but knows she needs to, here are some of the best tips to help you learn how to clean every room in your house that you can start doing today to take your home from disaster zone to presentable in little time and with as little effort as possible (I'm all about keeping things simple, and I show you exactly how you can do that here!)
Deep cleaning house tips
If you're ready to face the mess and are looking for an article that will provide you with the exact steps you need to take in order to achieve a clean home with a  step-by-step and room-by-room method, this is it. So suit up, grab some water, and get ready to get to work (because you, my friend, are about to completely transform your home).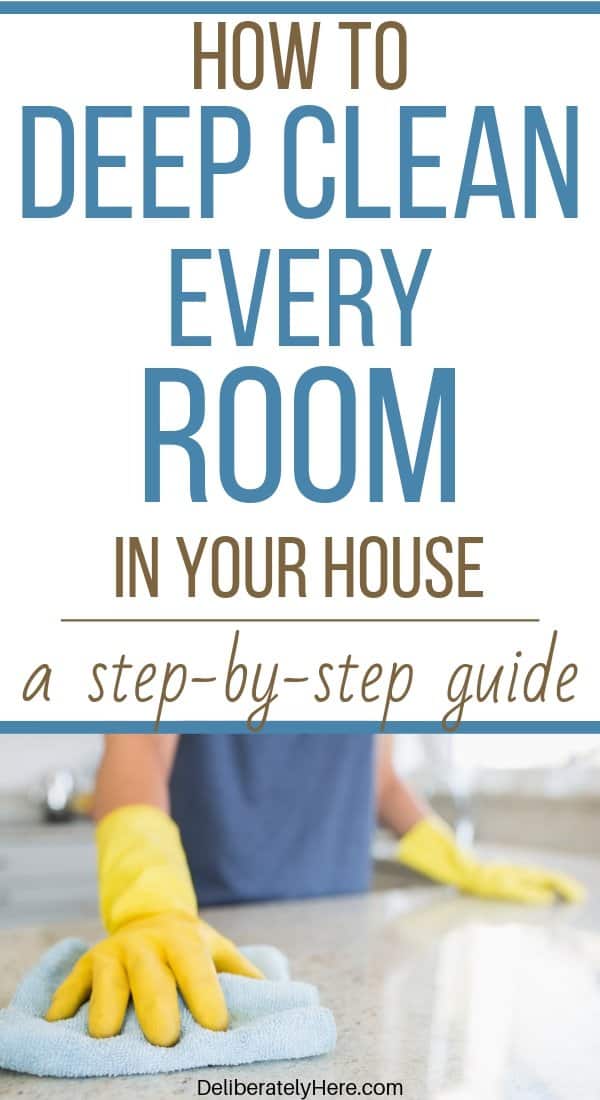 Like this post? Don't forget to click here to Pin it for later! 
HOW TO CLEAN EVERY ROOM IN YOUR HOUSE FAST & BECOME A HOUSE CLEANING GENIUS
(STEP-BY-STEP INSTRUCTIONS)
Ready to jump in and learn how to deep clean your house fast? Let's get right to it.
First,
MAKE A GAME PLAN
First thing's first –
Before you dive in and start cleaning your house like a madwoman with no direction, you will want to sit down and make a game plan and set some goals.
It's a lot harder to work towards something if you don't know what it is you're working towards, or what steps you're taking to get there. The first step is to set a game plan that you can stick to. You want a plan that won't take too long to achieve but will get the job done right the first time, so you don't have to go back and correct yourself where you didn't do a good enough job.
Don't just set a goal of working towards a cleaner house. Try getting more precise. Set a goal along the lines of, "I want to have a completely clean house by this date" or, "I will have the living room clean and completely decluttered from ceiling to floor in X amount of hours".
I like to use something like THIS to create my cleaning game plan.
Setting specific goals with a specific timeline is exactly what is going to help you go from where you are to where you want to be.  (But before you can do that, you need to know where it is you want to be.)
When you're working towards something that you really want, you will have an easier time keeping yourself going when you run out of motivation, so it's important that you sit down and decide what it is that you really want.
(Do you want a house that sparkles from top to bottom? Or maybe you just want to focus on cleaning the bedrooms for now? Want to get your living room furniture clean? Or perhaps you want a concrete cleaning plan that allows you the flexibility to do it throughout your day, but still keeps your house clean. In that case, you should be using this.)
So, here's your first task: before you get up and start cleaning, grab a piece of paper and write down some specific goals you want to achieve and set the dates that you want to achieve them by. You can even go into so much detail as to write down how you are going to achieve those goals. (This is what I like to use to make my game plan and set my cleaning goals.)
While this IS a very important step in the whole process, don't get too hung up on it. If you spend all your time and energy on creating the PERFECT plan (spoiler: no plan is going to be perfect), you're going to have no drive left to actually put that plan into motion. So, YES, create a gameplan. But, NO, don't spend hours doing so. You should be able to create your game plan in less than an hour.
You can use a scrap piece of paper to create your cleaning goals and how you're going to achieve them, or you can use this Goal Getter to keep you on track.
DO A QUICK "SHALLOW" CLEAN
"A shallow clean??"
(I know, I was confused at first, too.)
When you're finally ready to start cleaning, the first thing you want to do is quickly go through your ENTIRE house and do a shallow clean.
A shallow clean is when you go room to room and get rid of all the clutter and items that don't belong there. (This includes garbage, too.)
Cleaning your already-messy house is a million times more difficult when you're trying to clean around clutter, trash, and miscellaneous items. The less stuff you have in your house, the easier your job of cleaning will be.
You can quickly do this by going through each and every room of your house with two of these baskets in hand (really, you could just use a couple of these bags, but I think this basket is SO cute that it's worth using because once you're done with it it can double as home decor).
When you get into one room, put any items that you don't need (broken items or items that you no longer use or like) into one basket, and put items that are misplaced into the other basket (these are items you are going to keep, but aren't currently where they belong).
If there are bigger items that don't fit into your organizing baskets you can put them into piles on the floor.
Great, now that you've done that, grab the basket with items that you are keeping but are out of place and put everything in its proper place. Then, come back and grab the garbage pile/basket and bring it out to the garbage.
(If you come across something that is still in good shape so you don't want to throw it out, but you don't want to keep it, start a donation pile and place it there.)
One thing a LOT of families struggle with is misplaced shoes. Shoes seem to end up all over the house. Something you can do about that is use a 3-tier shoe rack, like this one, at your front door and encourage your family members to remove their shoes as soon as they get into the house (this will help keep shoes organized and in one place AS WELL as cut down on the amount of dirt that gets drug throughout the house).
Repeat this process for every room in your house, then you'll be ready to start cleaning.
Grab your printable checklist so you can start cleaning the rooms in your house as soon as you're finished reading this post! ↙️
WORK IN ONE AREA UNTIL IT IS COMPLETED
A lot of the time when people (I) do a boring chore, they will tend to lose interest or focus in what they're doing and start floating around their house in an effort to feel like they're being productive, without actually doing much of anything.
(Have you ever had one of those days when it felt like you were constantly busy, yet you got absolutely nothing done?)
No matter how boring the task, chore, or job you're doing is, to get the most out of your cleaning efforts, you have to learn how to work in one area or on one task without moving on before it's finished. Don't work in one area until it's halfway done. Work in that area until it is COMPLETELY done.
I am someone who tends to lose focus on tasks VERY quickly, and I like to move on to something more interesting as soon as I start to get bored (and since I consider cleaning and tidying our house a boring job, this is NOT a good habit…). To keep myself focused on one task through to completion, I've started training myself to use something just like this Kikkerland Cat and not allowing myself to move on before it dings.
Using a timer really helps me focus on one area of our house until I'm completely finished (and it challenges me to get as much as I can done before the timer goes off).
When you float around the different areas of your house, dabbling in a bit of cleaning here and a bit of cleaning there, you spend a lot of your time walking from one place to the next, when all that wasted time could have been used to focus on one task and see it through to completion.
Not sure which cleaning supplies are necessary and which ones are a waste of money? 
Need:
Don't need (but can be useful if you want):
Keep in mind:
You don't want to spend so much time cleaning one area of your house that you run out of time (or motivation) to clean the other areas. That's why I believe that using this really helps you get things done in a shorter period of time, and keeps you motivated since it gives you something to work against.
To ensure that you don't end up spending too much time in one area you will want to set a pace that allows you to do a good job where you are working, but still gives you enough time to get all the different areas of your house cleaned in the timeline that you set for yourself. (Remember your game plan?)
The reason I have started to love using this method of cleaning (focusing on ONE task all the way through to completion) is that once I'm done in a certain area or room of our house, I don't have to go back to it. I'm completely done there. I can even close the door so I remember that room is DONE. Grab your Kikkerland Cat to help you focus on one task at a time, here.
Now that you've created a game plan, done a quick "shallow clean" of your house (gotten rid of the unnecessary clutter), and are using this to focus on one area of your house at a time, you're ready to START CLEANING, and what better way to start cleaning than to use this house deep clean checklist.
How to Clean Your House Fast in a Nutshell…
How to Deep Clean Your House
Use these tips to quickly deep clean every room in your house without the stress
Materials
Smart Planner - for your game plan
Garbage Bags
Mop
Vacuum Cleaner
All-Purpose Cleaner
Instructions
Make a Game Plan
Take your smart notebook and jot down each room that needs to be cleaned, in the order that you plan to clean them.
Set Goals
Set a couple of goals that will challenge you to get cleaning. Be specific. (You could write down which date you want to have each room of your house deep cleaned by.)
Shallow Clean
Before you start your deep clean, quickly make your way through your entire house with a garbage bag and basket in hand. Place out-of-place items into the basket and bring them back where they belong. Place any garbage you come across into the garbage bag.
Work in One Area Without Getting Distracted
Pick your starting point (go back to where you wrote down your game plan and start with the first room) then work in that one area or room until it's done. When we tend to get bored, we tend to start working half-heartedly and "wandering" around - doing a small task in one room, then in another, and another, never fully finishing anything.
Use a Checklist to Stay Accountable
Using a checklist will help you stay on one task until it's done, as well as helping you remember which rooms and areas have already been cleaned, and which ones still need to be (ensuring you don't waste time cleaning things twice).
Notes
If you struggle to stay motivated to clean, consider setting a timer on your phone for 10 minutes. During those 10 minutes put away all distractions and just clean. Once the timer goes off, you're done.
Download your free printable deep cleaning cheat sheet…
Download the free cheat sheet: The Ultimate Deep Cleaning Checklist. You'll get the free printable, plus join my newsletter! Click here to download and join.
Print. Any printer paper works for this cheat sheet, and you can choose whether to use color or black ink, then grab a pen to start checking things off the list.
Keep it somewhere easy to use, like a binder or a clipboard.
Now go get to work – no more procrastinating and finding ways to put it off, if your house is in need of a deep clean, it's better to start now than to let it sit for months on end. Use your deep cleaning checklist to work your way through your entire house in no time.
What are your favorite tips on how to clean every room in your house? I'd love to hear from you!
Related:
How to Clean a Messy House When You're Overwhelmed (4 easy steps)
9 Ways to Clean Your House Fast
7 Decluttering Tips for Hoarders (and people who like to collect stuff)
How to Declutter Your Home and Your Life